Meet the
VICC Ambassadors
Learn why we have joined VICC Ambassadors and how you can help us achieve Victory Over Cancer.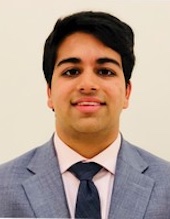 Unfortunately, most of us today do not have enough fingers to count the people we know who are fighting cancer. I have seen firsthand the challenges that cancer patients of all ages are facing.
Volunteering at hospitals and having the opportunity to do cancer research over the past few years has significantly broadened my awareness and understanding: medicine is more than clinical — it is people-driven; the patients' physical and emotional needs are paramount. Furthermore, the key to enhancing patient care is diligently committing to research that will provide novel therapies and ultimately better the lives of cancer patients in the future.
Cancer is dangerous and what makes it deadly is that it is caused by a complex web of genetic and molecular interactions, many of which are not fully identified and understood yet. However, the significant progress in cancer awareness and research is very encouraging and inspiring.
Through my interests in the sciences, economics and social anthropology, I believe that a researcher follows a twofold code of conduct — as a scientist continuously studying given facts, collecting meaningful data and examining relevant sources, and then as a human, a social creature and innate entrepreneur, confronting not only scientific problems but also addressing social and economic barriers. 
As a Vanderbilt-Ingram Cancer Center Ambassador, I combine my passion for scientific research and philanthropy to make a positive difference. I sincerely hope you join me in winning the battle against cancer. By raising money for discovery grants through the Victory Over Cancer fund, we are determined to find a cure!