Meet the
VICC Ambassadors
Learn why we have joined VICC Ambassadors and how you can help us achieve Victory Over Cancer.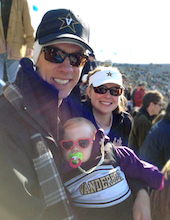 In Loving Memory of Todd Jackson

My late husband, Todd Jackson, and I had the privilege of serving as the founding co-chairs of the VICC Ambassadors program in 2009.  Todd had experienced brain cancer as a younger man and was treated successfully at Vanderbilt. A decade later, the brain cancer returned in a more aggressive form, and Todd passed away in 2014.  Our spunky daughter, Allie, who was born in 2013, is a daily reminder of the amazing impact of Todd's life.

Around the time Todd and I began discussing the idea of the VICC Ambassadors program, some other young professionals were also seeking ways to turn their passion for fighting cancer into action.  That initial group of ten or twelve folks was eager to build a community that not only excelled at funding early-stage cancer research, but would also become a meaningful volunteer engagement opportunity.  In addition to awarding grants, the VICC Ambassadors program provides a platform for those outside the cancer research community to engage where the new science is being created.  The group enjoys sharing our professional expertise and personal stories with the researchers our group funds.  This collaborative dialogue sparks new ideas and unites our passion around eradicating cancer.

From our inception in 2009 through 2018, the VICC Ambassadors have raised and awarded more than $1,000,000 in Discovery Grant funding for cancer research at VICC. The researchers our group has funded have since been awarded more than $31,000,000 from larger grant-making organizations and government funders. Todd's brain surgeon, William F. Meacham Professor and chairman of Neurological Surgery, Dr. Reid Thompson, refers to our group as "force multipliers" - help us keep the momentum going!
Please use the link on this page that is set up to direct gifts to the Victory Over Cancer Fund-Todd and EB Jackson. You may also call (615) 322-2929 to make a gift to the Victory Over Cancer Fund—Todd and EB Jackson.
I remember one of the things Todd said near the end of his life:  "Allie may not remember me, but she will know me. Our daughter will know I was her dad, and that I wanted to make a difference."