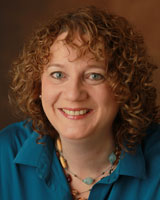 Kate McReynolds, MSN, MSc, APN, ANP-BC, AGN-BC
Kate McReynolds, MSN, MSc, APN, ANP-BC, AGN-BC
kate.mcreynolds@Vanderbilt.Edu
Profile
Ms. McReynolds is a nurse practitioner who is board certified in Advanced Genetics Nursing by the American Nurses Credentialing Commission (ANCC). She started her nursing career in the UK in 1989 as a registered nurse. Prior to coming to Vanderbilt, she worked for 12 years at the Royal Marsden Hospital, London (Europe's largest cancer center). She is certified in Oncology and Gynecology Nursing and has gained experience in many areas of cancer care. Her last three years at the Royal Marsden were spent in the Cancer Genetics unit working with Dr. Rosalind Eeles, a leading physician in clinical and translational cancer genetics. Kate's role involved research and cancer risk counseling.
Ms. McReynolds moved to the United States and started work at Vanderbilt in 2004. While contributing to cancer genetic research in prostate cancer at Vanderbilt-Ingram Cancer Center, she completed her studies and graduated from London University in 2007 with a health science master's degree in Advancing Professional Health Care (Cancer Care), specializing in Cancer Genetics. She enrolled at Vanderbilt University School of Nursing and graduated in December 2011 with a Master of Science in Nursing and became a certified Adult Nurse Practitioner in 2012. She is now a nurse practitioner and is a clinical leader of the Vanderbilt Hereditary Cancer Clinic at the Village at Vanderbilt. She has been instrumental in building the Clinical and Translational Hereditary Cancer Program at Vanderbilt.
In 2014, Ms. McReynolds was appointed as Vice Chair to the ANCC Content Expert Panel for Genetics Nursing Advanced Certification which determined how nurses are nationally certified in advanced genetics. She was one of the first people to receive this certification in 2015. She is also a member of the ANCC Genetics Content Expert Registry and Advanced Genetics Standard Setting group.
Education
Bachelor's degree in Human Biology, Oxford Brookes University 1986
Registered General Nurse, Guy's Hospital, London 1989
Gynecology Nursing Certificate, 1993
Cancer Nursing Certificate, 1995
Cancer Genetics Course, European School of Genetic Medicine, Italy, 2000
Course in Genetic Counseling in Practice, European School of Genetic Medicine, Italy, 2001
Post Graduate Diploma in Cancer Genetics, Institute of Cancer Research, London, 2004
Master's in Advancing Professional Health Care (Cancer Care), King's College, London, 2007
Vanderbilt University School of Nursing,(Adult Nurse Practitioner/Palliative Care)MSN-2011
Research Emphasis
Research Description
Publications