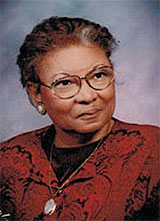 Margaret Hargreaves, Ph.D.
Professor of Internal Medicine, Meharry Medical College
Margaret Hargreaves, Ph.D.
Professor of Internal Medicine, Meharry Medical College
Meharry Medical College, Internal Medicine
1005 Dr. D.B. Todd, Jr., Blvd.
Nashville, TN 37208
Profile
Dr. Margaret K. Hargreaves is Professor and Director of the Prevention Research Unit in the Department of Internal Medicine at Meharry Medical College. She is a graduate of MacDonald College of McGill University; the University of California at Berkeley; and the University of Toronto. A nutritionist by training, her research interests have expanded into the study of health disparities for key chronic diseases, including cancer prevention and control. Research activities include the assessment of associated risk factors and the development and implementation of intervention trials based on models of health behavior change. A major area of interest is the application of community-based participatory research (CBPR) methodology to foster changes in health behaviors among low-income African Americans.
Dr. Hargreaves has managed many grants, including a study of causes of cancer in the southeastern United States (NCI)(the Southern Community Cohort Study), use of CBPR methods to decrease risk factors for eating, physical activity, and smoking (Nashville REACH 2010), provision of intervention services, and coalition building for target groups of interest (NIDDK), a study of primary and secondary methods for breast cancer screening using the Transtheoretical Model (DOD), and colonoscopy screening using the Health Belief Model (NCI).
Expertise developed through these projects include: a) effective strategies for recruiting African Americans in Nashville, Memphis, and Chattanooga; b) experience with the assessment of dietary, nutritional, and other risk factors for the chronic diseases that cause excess deaths among African Americans; and c) applicable health models that are most effective in facilitating health behavior change, especially among low income African Americans.She has published in journals such as Ethnicity and Health, Journal of the American Dietetic Association, Nutrition and Cancer, Journal on Health Care for the Poor and Underserved, Journal of the National Medical Association, and the Journal of Ambulatory Care Management. She is the recipient of many awards, including the American Public Health Association-Aetna Susan B Anthony Award for Excellence in Research on Older Women and Public Health.
Education
B.Sc. - MacDonald College (McGill University), Quebec, 1959
P. Dt. - Royal Victoria Hospital, Montreal, Quebec, 1960
M.S. - University of California, Berkeley, California, 1963
Ph.D. - University of Toronto, Ontario, 1970
Research Emphasis
Publications