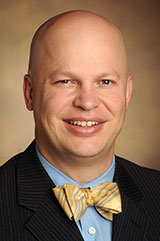 Otis B. Rickman, D.O.
Assistant Professor of Medicine (Allergy, Pulmonary and Critical Care)
Otis B. Rickman, D.O.
Assistant Professor of Medicine (Allergy, Pulmonary and Critical Care)
Profile
Dr. Otis B. Rickman grew up in southeast Oklahoma. After graduation from Hugo High School in 1989 he went on to attend Oklahoma State University where he received a B.S in Biological Sciences in 1993 and then his D.O. degree in 1998. He then completed both residency training in internal medicine and fellowship training in pulmonary and critical care medicine at Mayo Clinic. Immediately after fellowship training, he was appointed to the faculty of Mayo Clinic as an Assistant Professor in 2004. As a junior faculty member he was trained in interventional pulmonology.
After completion of training he joined the Interventional Pulmonary group and served as Program Director of the Critical Care Fellowship. Dr. Rickman joined the Division of Allergy/Pulmonary and Critical care and Department of Thoracic Surgery at Vanderbilt University in August of 2009 where he serves as Director of Bronchoscopy. He is board certified by the American Board of Internal Medicine in Internal Medicine, Pulmonary Medicine and Critical Care Medicine. He is a Fellow of the American College of Chest Physicians and a member of the International Association for the Study of Lung Cancer, American Association for Bronchology and Interventional Pulmonology and the American Thoracic Society.
Dr. Rickman's clinical expertise lies primarily in interventional pulmonology and thoracic oncology. He is trained and performs the full spectrum of diagnostic, therapeutic and palliative airway procedures for patients with lung cancer or suspected lung cancer. This extends from smoking cessation counseling, early detection with endoscopic treatment all the way to palliative airway procedures to alleviate symptoms of the patient with advanced lung cancer.
Vanderbilt Ingram Cancer Center has the newest and most advanced endoscopic technologies and treatments available. In addition to routine diagnostic flexible videobronchoscopy we offer advanced diagnostic procedures such as electromagnetic navigation guided (SuperDimension) lung biopsy, autofluorescence bronchoscopy, endobronchial ultrasound and transbronchial needle aspiration, as well as advanced therapeutic procedures such as rigid bronchoscopy, airway stenting, brachytherapy, balloon dilatation, endobronchial electrosurgery, Nd:YAG, KTP and CO2 laser bronchoscopy and photodynamic therapy. In addition to the airway procedures he also places indwelling pleural catheters for management of effusions and performs thoracic ultrasound guided thoracentesis.
His research is clinical and translational in nature focusing on early detection, chemoprevention, endoscopic staging and treatment of lung cancer.
Education
Mayo Clinic Graduate School of Medicine
Fellowship, Pulmonary and Critical Care Medicine
Mayo Clinic Graduate School of Medicine
Residency, Internal Medicine
Oklahoma State University
D.O.
Oklahoma State University
BS, Biological Sciences
Research Emphasis
Research Description
Publications