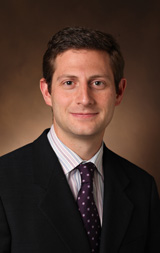 R. Frank Cornell, M.D., M.S.
Assistant Professor of Medicine (Hematology/Oncology)
R. Frank Cornell, M.D., M.S.
Assistant Professor of Medicine (Hematology/Oncology)
robert.f.cornell@vanderbilt.edu
Profile
Dr. Cornell is an assistant professor of medicine and the clinical director of plasma cell disorders at Vanderbilt Medical Center. He received a B.S. in clinical laboratory science from Saint Louis University and then worked in clinical and molecular hematology at Johns Hopkins Hospital. He attended medical school at Trinity College in Dublin, Ireland. Dr. Cornell then completed his Internal Medicine Residency and Hematology/Oncology Fellowship at The Medical College of Wisconsin. He obtained his Master's in Clinical and Translational Science.He specializes in the treatment of plasma cell disorders including Multiple Myeloma, Smoldering Myeloma, Monoclonal Gammopathy of Undetermined Significance (MGUS), POEMS syndrome, Amyloid Light-Chain (AL) Amyloidosis, Plasma Cell Leukemia, Solitary Plasmacytoma and Waldenstrom Macroglobulinemia.
Dr. Cornell's research focuses on translational and early phase clinical trials for the treatment of multiple myeloma. He also conducts research and clinical trials for relapsed/refractory multiple myeloma and other plasma cell disorders. He also researches cardio-oncology to better understand the effects of chemotherapy on the heart and vascular system.
Dr. Cornell is an active member of the American Society of Hematology, American Society of Clinical Oncology, International Society of Cardio-Oncology, and the American Society for Blood and Marrow Transplantation. He is a member of the multiple myeloma subcommittee of ASBMT.
Education
M.D., Trinity Dublin University, Dublin, Ireland (2007)
B.S., Saint Louis University, Saint Louis, Missouri (2000)
Postgraduate training:
Internship/Residency - Internal Medicine, Medical College of Wisconsin (2010)
Fellowship - Hematology/Oncology, Medical College of Wisconsin (2013)
Master of Clinical and Translational Science, Medical College of Wisconsin (2014)
Research Emphasis
Research Description
Clinical Trials and research: Phase I Clinical Trial Development; Multiple Myeloma Clinical; Light Chain Amyloidosis; Waldenstrom's Macroglobulinemia; Autologous Stem Cell Transplantation; Cardio-oncology
Publications