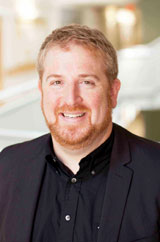 Seth Bordenstein, Ph.D.
Professor of Biological Sciences
Professor of Pathology, Microbiology and Immunology
Seth Bordenstein, Ph.D.
Professor of Biological Sciences
Professor of Pathology, Microbiology and Immunology
s.bordenstein@vanderbilt.edu
Department of Biological Sciences
U7211 Medical Research Building III
465 21st Ave S
Nashville, TN 37232
Profile
Seth R. Bordenstein is a Professor of Biological Sciences and Pathology, Microbiology, and Immunology at Vanderbilt University, Nashville, TN.
His science has broad interests in microbial-host interactions and the relative importance of the genome vs. microbiome in animal evolution and disease, including:
1. Does the aggregate genome and microbiome form a persistent evolutionary unit over time called the "hologenome"?
2. How often is DNA swapped between host-associated microbes?
3. How do animal genes regulate maternal transfer of bacterial symbionts?
Animal bodies are not self-sufficient. They require microbial custodians that provide security, digest food, and initiate repair and defense. Indeed, Darwin and the 20th century pioneers of evolutionary biology would have been astonished to see the countless roles that microbes play in shaping eukaryotic Life. Today, young systems of symbiotic bacteria are still formidable players in shaping biology, spurring on the evolution of incipient organelles and posing threats to the health of their hosts. The Bordenstein Lab studies microbial symbiosis because we are fascinated by the knowledge that symbiosis is as universal and essential to biology's fabric as genetics and evolution.
Additional Information:
Dr. Bordenstein is a scientist, educator, optimist, consultant, and non-linear thinker. His research is inspired by the observation that "Life looks for Life" and that symbiosis is as important as genetics and evolution to understanding biology. He is most well known for his work on the microbiome, evolution, microbial genomics, bacteriophage and the hologenome, and his development of a project-based international science program for students and teachers called Discover the Microbes Within! The Wolbachia Project. You can follow Seth on Twitter or his blog, both under the name Symbionticism.
Education
Ph.D., University of Rochester, Rochester, New York (2002)
M.S., University of Rochester, Rochester, New York (1999)
B.S., University of Rochester, Rochester, New York (1997)
Research Emphasis
Symbiosis, Microbiome, Microbiology, Virology, Evolution, Genomics, Genetics, Host-Microbe Interactions, Pathogen, Speciation
Research Description
Our scholarship endeavors to understand "What are the evolutionary and genetic principles that shape interactions between animals and microbes, and what are the major consequences of these interactions?" Towards solving these questions, we employ hypothesis-driven approaches to study two forms of animal-microbe associations: intimate symbioses (between animals, obligate intracellular bacteria and bacteriophages) that impact animal reproduction and vector control, and facultative associations (between free-living organisms) that shape genome and species evolution across the tree of life. Our approaches leverage a wide range of expertise spanning virology, bacteriology, zoology, embryology, genetics, genomics, transcriptomics, ecology, evolution, development, and biochemistry. As symbiosis - the living together of dissimilar organisms - unites diverse subdisciplines in the life sciences, the lab's scientific output produces both basic and translational outcomes.

Consistent federal funding supports the lab, including two current National Institutes of Health grants and a National Science Foundation grant. Over 90 total publication include recent research articles published in Current Biology, eLife, Nature, PLOS Biology, Proceedings of the National Academy of Sciences, and Science. Popular science productions including Atlantic, BBC Radio, CNN, Discover magazine, Huffington Post, The New York Times, PBS, and Scientific American covered this scholarship. Finally, it is important to note that the lab's output happens with the energy, passion, and curiosity of dedicated and diverse young scientists (55 lab trainees in total from undergraduates to postdocs) who devote themselves to science and education. We are fortunate to work with a responsible and high-performance research group whose quality of expectations matches the quality of their output. Recent investigations study:

A. How does a bacteriophage underpin a global pandemic (Wolbachia) and a major vector control effort?

B. How do animals form relationships with intracellular and free-living bacteria?

C. How do microbes assist the origin of new host species?

D. What is the impact of ethnicity and diet on human gut microbiome viaraton and health disparities?

For more information, please contact Dr. Bordenstein and see the following online resources (we are recruiting students and postdocs):

Laboratory: http://bordensteinlab.vanderbilt.edu/
Twitter: @Symbionticism
Vanderbilt Microbiome Initiative: https://my.vanderbilt.edu/microbiome/
Science Education: https://my.vanderbilt.edu/discover/


Publications