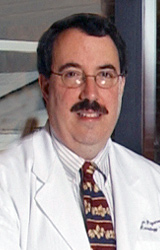 Stephen J. Brandt, M.D.
Professor of Medicine (Hematology/Oncology)
Professor of Cell and Developmental Biology
Stephen J. Brandt, M.D.
Professor of Medicine (Hematology/Oncology)
Professor of Cell and Developmental Biology
Vanderbilt-Ingram Cancer Center
777 Preston Building
Nashville, TN 37232-6305
Profile
My clinical activities relate to general hematology, including both malignant and non-malignant disorders, and hematopoietic stem cell transplantation, primarily for malignant hematological disorders. I currently see patients exclusively at the Nashville VA Medical Center.
Education
B.S., Duke University (1976)
M.D., Emory University School of Medicine (1981)
Research Emphasis
Transcriptional regulation; basic helix-loop-helix transcription factors; LIM domain proteins; protein dimerization; cell differentiation; hematopoiesis; T-cell leukemia
Research Description
Our research focuses on the control of blood cell production and how this is subverted in hematologic malignancy. We have been particularly interested in the oncogene TAL1 (or SCL) that encodes a member of the helix-loop-helix family of transcription factors. Abnormal expression of this gene, originally identified through its involvement by a recurrent chromosomal translocation, constitutes the most frequent gain-of-function mutation in T-cell acute lymphoblastic leukemia (T-ALL). Many helix-loop-helix proteins are important in specification of cell fate, and studies from our lab and others indicate that TAL1 regulates fundamental aspects of hematopoietic differentiation.

We have characterized in detail the expression of TAL1 protein in murine and avian embryogenesis and, most recently, in physiological and pathological vasculogenesis. A series of studies on TAL1 function in erythroid cells have shown this transcription factor undergoes both phosphorylation and acetylation, and we have investigated its interaction with a number of transcriptional coregulators. Work is ongoing to investigate the mechanism by which misexpression of this critical regulator of normal hematopoiesis contributes to leukemic transformation and to identify both its interaction partners and downstream targets. Contemporary techniques of molecular biology and protein biochemistry and both in vitro and in vivo models are used in this research.
Publications
Perreault AA, Benton ML, Koury MJ, Brandt SJ, Venters BJ. Epo reprograms the epigenome of erythroid cells. Exp. Hematol [print-electronic]. 2017 Jul; 51: 47-62. PMID: 28410882, PII: S0301-472X(17)30133-9, DOI: 10.1016/j.exphem.2017.03.004, ISSN: 1873-2399.
Simonik EA, Cai Y, Kimmelshue KN, Brantley-Sieders DM, Loomans HA, Andl CD, Westlake GM, Youngblood VM, Chen J, Yarbrough WG, Brown BT, Nagarajan L, Brandt SJ. LIM-Only Protein 4 (LMO4) and LIM Domain Binding Protein 1 (LDB1) Promote Growth and Metastasis of Human Head and Neck Cancer (LMO4 and LDB1 in Head and Neck Cancer). PLoS ONE. 2016; 11(10): e0164804. PMID: 27780223, PMCID: PMC5079595, PII: PONE-D-16-16733, DOI: 10.1371/journal.pone.0164804, ISSN: 1932-6203.
Li J, Kurasawa Y, Wang Y, Clise-Dwyer K, Klumpp SA, Liang H, Tailor RC, Raymond AC, Estrov Z, Brandt SJ, Davis RE, Zweidler-McKay P, Amin HM, Nagarajan L. Requirement for ssbp2 in hematopoietic stem cell maintenance and stress response. J. Immunol [print-electronic]. 2014 Nov 11/1/2014; 193(9): 4654-62. PMID: 25238756, PMCID: PMC4201964, PII: jimmunol.1300337, DOI: 10.4049/jimmunol.1300337, ISSN: 1550-6606.
Giglia JL, White MJ, Hart AJ, Toro JJ, Freytes CO, Holt CC, Cai Y, Williams SM, Brandt SJ. A single nucleotide polymorphism in SLC7A5 is associated with gastrointestinal toxicity after high-dose melphalan and autologous stem cell transplantation for multiple myeloma. Biol. Blood Marrow Transplant [print-electronic]. 2014 Jul; 20(7): 1014-20. PMID: 24704384, PMCID: PMC4076151, PII: S1083-8791(14)00195-5, DOI: 10.1016/j.bbmt.2014.03.022, ISSN: 1523-6536.
Chinratanalab W, Reddy N, Greer JP, Morgan D, Engelhardt B, Kassim A, Brandt SJ, Jagasia M, Goodman S, Savani BN. Immunomodulatory nonablative conditioning regimen for B-cell lymphoid malignancies. Exp. Hematol [print-electronic]. 2012 Jun; 40(6): 431-5. PMID: 22269114, PMCID: PMC4067702, PII: S0301-472X(12)00016-1, DOI: 10.1016/j.exphem.2012.01.014, ISSN: 1873-2399.
Dey S, Curtis DJ, Jane SM, Brandt SJ. The TAL1/SCL transcription factor regulates cell cycle progression and proliferation in differentiating murine bone marrow monocyte precursors. Mol. Cell. Biol [print-electronic]. 2010 May; 30(9): 2181-92. PMID: 20194619, PMCID: PMC2863590, PII: MCB.01441-09, DOI: 10.1128/MCB.01441-09, ISSN: 1098-5549.
Wang Y, Klumpp S, Amin HM, Liang H, Li J, Estrov Z, Zweidler-McKay P, Brandt SJ, Agulnick A, and Nagarajan L. SSBP2 is an in vivo tumor suppressor and regulator of LDB1 stability. Oncogene. 2010; 29: 3044-53.
Cai Y, Xu Z, Xie J, Ham AJ, Koury MJ, Hiebert SW, Brandt SJ. Eto2/MTG16 and MTGR1 are heteromeric corepressors of the TAL1/SCL transcription factor in murine erythroid progenitors. Biochem. Biophys. Res. Commun [print-electronic]. 2009 Dec 12/11/2009; 390(2): 295-301. PMID: 19799863, PMCID: PMC2774815, PII: S0006-291X(09)01928-7, DOI: 10.1016/j.bbrc.2009.09.111, ISSN: 1090-2104.
Hamid R, Brandt SJ. Transforming growth-interacting factor (TGIF) regulates proliferation and differentiation of human myeloid leukemia cells. Mol Oncol [print-electronic]. 2009 Dec; 3(5-6): 451-63. PMID: 19699159, PII: S1574-7891(09)00087-8, DOI: 10.1016/j.molonc.2009.07.004, ISSN: 1878-0261.
Brandt SJ and Koury MJ. Regulation of LMO2 mRNA and protein expression in erythroid differentiation [editorial]. Haematologica. 2009; 94: 447-8.