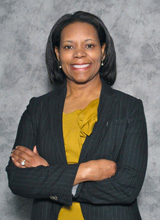 Consuelo H. Wilkins, M.D., M.S.C.I
Executive Director, Meharry-Vanderbilt Alliance
Associate Professor of Medicine
Consuelo H. Wilkins, M.D., M.S.C.I
Executive Director, Meharry-Vanderbilt Alliance
Associate Professor of Medicine
consuelo.h.wilkins@Meharry-Vanderbilt.Org
Biomedical Sciences Building
1005 Dr. D.B. Todd, Jr., Blvd.
Nashville, TN 37208
Profile
I currently serve as the Executive Director of the Meharry-Vanderbilt Alliance, a strategic partnership between Meharry Medical College and Vanderbilt University Medical Center. Among my responsibilities in the Alliance, I develop and support collaborative initiatives and programs in biomedical research and clinical science training. In addition to my position in the Alliance, I am an Associate Professor of Medicine in the Division of General Internal Medicine and Public Health at Vanderbilt University School of Medicine and have a joint appointment as Associate Professor of Medicine at Meharry Medical College. I am also Co-Director of the Meharry-Vanderbilt Community-Engaged Research Core (CTSA).
My research experience comprises a spectrum of clinical and translational studies including clinical trials, secondary data analyses and community-engaged research. I have substantial experience in engaging non-research stakeholders including groups often underrepresented in research. Since 2012, I have co-chaired the Community Partners Integration Workgroup of the CTSA Consortium's Community Engagement Key Function Committee. This workgroup has led to several initiatives including a Consortium-wide inventory of community members involvement in CTSA activities.
Prior to my current position, I was an Associate Professor in the Department of Medicine, Division of Geriatrics, with secondary appointments in Psychiatry and Surgery (Public Health Sciences) at Washington University School of Medicine. I served as Founding Director of the Center for Community Health and Partnerships in Institute for Public Health, co-director of the Center for Community Engaged Research in the CTSA, director of the Community Outreach Program in the Nutrition Obesity Research Center, and director of "Our Community, Our Health" - a collaborative program with Saint Louis University to disseminate culturally relevant health information and facilitate community-academic partnerships to address health disparities.
Education
Howard University College of Medicine
Duke University Medical Center - Residency Training
Barnes-Jewish Hospital - Geriatric Medicine Fellowship
Washington University, St. Louis - Clinical Investigation
Research Emphasis
Research Description
Publications