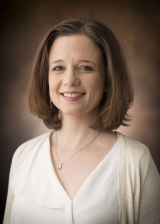 Emily Hodges, Ph.D.
Assistant Professor of Biochemistry
Emily Hodges, Ph.D.
Assistant Professor of Biochemistry
emily.hodges@vanderbilt.edu
626 Robinson Research Building
Nashville, TN 37232-0146
Profile
The genetic and epigenetic determinants of disease susceptibility and progression remain poorly understood for many types of sporadic hematological cancers. This is especially true for cases with mixed clinical outcomes such as chronic lymphocytic leukemia (CLL). Recent studies have shown that disease associated sequence variants frequently occur in non-protein-coding regions of the human genome, often disrupting functional gene regulatory elements. Through utilization of genomic and computational approaches, our research addresses the contribution and functional variation of non-coding gene regulatory elements to different types of leukemia, complementing current efforts to better understand the molecular basis of cancer. This strategy may uncover alternative routesto identify cancer susceptibility loci and targets for drug intervention. An important aspect of my research is to understand how DNA methylation influences the behaviors of gene regulatory elements in normal cell-types and how this epigenetic mark is disrupted in cancer. Therefore, we study mechanisms by which DNA methylation states are established in differentiating cells and the degree to which DNA methylation itself regulates gene expression.
Education
Research Fellow, Cold Spring Harbor Laboratory, New York
Ph.D. Karolinska Institute, Stockholm, Sweden
B.A. Rhodes College, Memphis, TN
Research Emphasis
DNA methylation and non-coding gene regulatory variation in evolution, development and disease
Research Description
Research in the Hodges Lab strives to understand how epigenetic features shape human genomes. Our work aims to dissect the relationship between DNA methylation and gene regulation, particularly with respect to the gene regulatory activity of non-coding functional elements. We study this relationship on two levels; first, we are interested in how DNA methylation states are established in differentiating cells. Second, we are interested in the relationship between genotype and DNA methylation state (epitype).
Publications