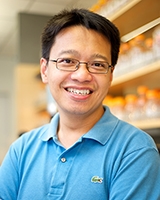 Manuel Ascano, Ph.D.
Assistant Professor of Biochemistry
Assistant Professor of Pathology, Microbiology and Immunology
Manuel Ascano, Ph.D.
Assistant Professor of Biochemistry
Assistant Professor of Pathology, Microbiology and Immunology
manuel.ascano@vanderbilt.edu
Vanderbilt University Medical Center
632 Robinson Research Bldg.
2200 Pierce Avenue
Nashville, TN 37232-0146
Profile
The cytoplasmic DNA-sensing pathway involving the proteins cGAS and STING are potent tumor immunosurveillance factors. Activation of STING leads to the upregulation of cytokines, notably tumor necrosis alpha. Several studies have shown that pharmacological stimulation of the cGAS-STING pathway can be effective in mitigating tumor progression in colorectal and non-small cell lung carcinoma murine models. My laboratory aims to understand the basic mechanisms governing cGAS and STING activation and regulation, as well as investigating post-transcriptional regulatory control of mRNAs encoding for cytokines. Moreover, we are engaged in identifying and characterizing small molecule agonists and antagonists of the cGAS-STING pathway.
Education
B.S., University of Illinois Urbana (1997)
Ph.D., University of Cincinnati College of Medicine (2006)
Research Emphasis
RNA, DNA, virus, host-pathogen interactions, biochemistry, innate immunity, post-transcriptional gene regulation
Research Description
Aberrant RNA or DNA are robust triggers of the innate immune system as they can be early indicators of cellular damage or pathogenic infection by bacteria or virus. However, the criteria that could differentiate 'self' or 'safe' nucleic acids from 'damaged' or 'foreign' are not straightforward since the biochemical features of harmful RNA or DNA are not strictly unique to them. Viruses are particularly insidious as they have evolved strategies that either prevent their RNA or DNA genomes from being detected by pattern recognition receptors of the innate immune system and/or usurp specific machinery of cells in order to initiate viral replication. For example, owing to the rich tapestry of host RNA-binding proteins (RBPs) that facilitate cellular messenger RNA transcription, maturation, and translation, different RNA viruses have found ways to associate with cellular RBPs to exploit normal host RNA metabolic pathways in a manner that allows viral genomes to be processed, translated, and eventually replicated.

In an effort to understand the molecular arms race between host and pathogen, the research program of the Ascano laboratory is centered on exploring the mechanisms that cells use to differentiate whether a nucleic acid is derived from self or non-self, and the innate immune events that ensue following that decision point.

We have active research projects within two areas:

1) The roles and coordination of RNA-binding proteins in regulating gene expression during innate immune activation or viral infection.

and

2) The cytosolic DNA-sensing pathway involving the pattern recognition receptor and sensor cGAS, its second messenger product cGAMP, and the endoplasmic reticulum-bound receptor STING.

Our lab integrates novel biochemical, virological, immunological, and molecular and cell biological tools with high-throughput transcriptomic and proteomic technologies in an effort to elucidate the gene regulatory networks at play during immunologic stress. A deeper understanding of the physiological and pathological activities that surround RNA regulation enables us to leverage such information towards the development of novel vaccines and immunotherapeutics. The lab is affiliated with the Department of Biochemistry at the Vanderbilt University School of Medicine and is also part of the Microbe-Host Interactions Program within the Department of Pathology, Microbiology, and Immunology at VUMC.
Publications