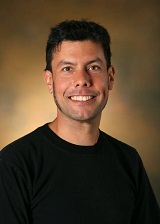 Ray Blind, Ph.D.
Assistant Professor of Medicine
Assistant Professor of Pharmacology
Assistant Professor of Biochemistry
Ray Blind, Ph.D.
Assistant Professor of Medicine
Assistant Professor of Pharmacology
Assistant Professor of Biochemistry
Division of Diabetes, Endocrinology and Metabolism
2213 Garland Avenue
8405 MRB4
Nashville, TN 37232
Profile
The American Cancer Society's 2014 report revealed that incidence rates are decreasing or stable for most cancers in the United States since 1999. Some notable exceptions are liver cancer in African Americans and Hispanics, endometrial cancer in African American women, colorectal cancer in patients under 50, and pancreatic cancer in every demographic.
In the tissues originating all these tumors, the nuclear receptors SF-1 and LRH-1 mediate genetic programs that are essential determinants of development, differentiation and adult physiology. Despite this importance, little is known about how these transcription factors are turned on and off.
At the molecular level, these proteins bind phosphoinositides (PIPs), small signaling lipids essential in PTEN-dependent cancers. We recently uncovered a novel mechanism that these lipids and their signaling enzymes use to regulate SF-1 and LRH-1 gene expression. This mechanism now links dysregulation of these pathways to the cancers mentioned above.
Our central hypothesis is that lipids bound to nuclear proteins are directly remodeled by lipid signaling enzymes, namely the PI3-kinase inositol polyphosphate multikinase (IPMK) and the PTEN lipid phosphatase. This hypothesis is a clear departure from the standard dogma that PI3-kinases and PTEN only act on phosphoinositides within cellular membrane systems.
Education
Ph.D., Biomedical Sciences/Molecular Pharmacology, New York University, New York, New York
Research Emphasis
We use genomics, structural biology and chemical genetics to discover new ways gene expression is regulated. We use this mechanistic information to develop new and unique drug screening platforms, focused on cancer, diabetes & liver diseases. I have joint appointments in both the Pharmacology and Biochemistry Departments, I lead a section of the FOCUS class for 1st year PhD students, and I am an active member of many Vanderbilt Institutes and Centers throughout the University & Medical Center communities.
.............................................................................................
Keywords: transcription, lipids, inositol phosphates, phospholipids, nuclear signaling, crystallography, integrated structural biology, SAXS, HDACs and epigenetics, biophysics, chromatin marks, histone acetylation, mechanistic biochemistry, enzymology, chemical biology, IRACDA, teaching. .............................................................................................
Research Description
Genome Regulation by 2nd Messengers
Publications