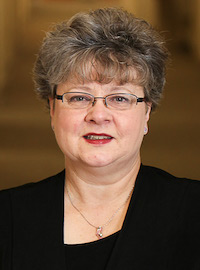 Sheila H. Ridner, Ph.D., RN, FAAN
Martha Rivers Ingram Professor of Nursing
Director, PhD in Nursing Science Program
Sheila H. Ridner, Ph.D., RN, FAAN
Martha Rivers Ingram Professor of Nursing
Director, PhD in Nursing Science Program
sheila.ridner@vanderbilt.edu
Vanderbilt University School of Nursing
461 21st Ave.
Nashville, TN 37240
Profile
Dr. Sheila Ridner is the Martha Rivers Ingram Professor of Nursing at VUSN. She received her PhD in Nursing Science from Vanderbilt University in 2003 and completed her Postdoctoral Oncology Nursing Fellowship in 2005, also at Vanderbilt.
She received her Masters of Science in Nursing from Vanderbilt University in 2000, and her Masters of Health Services Administration from the College of St. Francis Graduate School in Joliet, Illinois in 1988. Her undergraduate degree was from the University of Kentucky in Lexington, Kentucky in 1978 and was a Bachelor of Science in Nursing.
Dr. Ridner has an extensive background in symptom management, oncology, psych/mental health and substance abuse, healthcare administration, and quality improvement.
Education
Ph.D., Vanderbilt University, Nashville, Tennessee (2003)
M.S.N., Vanderbilt University, Nashville, Tennessee (2000)
M.S., College of Saint Francis, Joliet, Illinois (1988)
B.S.N., University of Kentucky, Lexington, Kentucky (1978)
Postgraduate Training
Postdoctoral Oncology Fellowship, Vanderbilt University (2005)
Research Emphasis
Publications