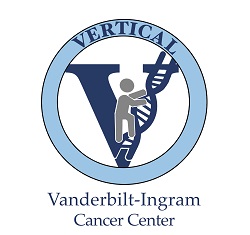 Vanderbilt Education Research and Training in Cancer and Leadership (VERTICAL) Program
The VERTICAL Program at Vanderbilt-Ingram Cancer Center provides a unique training experience that builds upon Vanderbilt's extraordinary record of research, training, and fostering diversity in biomedical science with the goal of promoting a pathway to cancer research and medicine careers for post-baccalaureate fellows who are underrepresented in science and medicine (URM). The program's specific objectives are to provide:
Mentored research experiences for URM individuals with bachelor's degrees

A robust and individualized curriculum to support participants in acquiring the knowledge and skills to pursue higher education leading to future careers in cancer research or medicine

Opportunities for community engagement to support a community of practice
VERTICAL fellows participate in an in-person, 2-year program of mentored basic, clinical/translational, and/or population science cancer research, cancer education, professional development, and community outreach activities. The overall program activities are individually tailored to meet the needs of each VERTICAL fellow: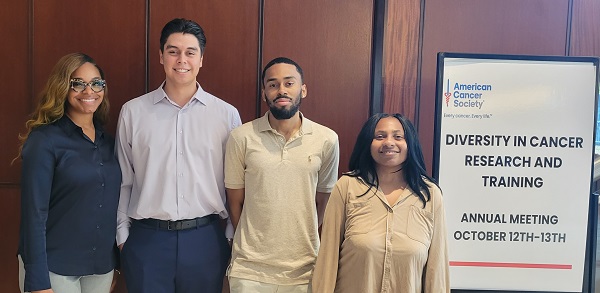 About
the VERTICAL Program
2023 - 2024 VERTICAL Fellows
 
 
Jordan Swaby, BS
Jordan Swaby was born in Brooklyn, NY and primarily raised in Jacksonville, FL where he developed an interest in clinical medicine. This interest was further developed into an interest in translational research through research opportunities with the University of Florida and the University of North Carolina at Charlotte. Jordan received his Bachelor of Sciences in Health Sciences from the University of Central Florida and hopes to pursue a career as a physician-scientist with aims to help visual tumors in cancer patients.
Asia Miller, BA
Asia Miller was born in Indianapolis, Indiana. She then moved to Nashville to attend Vanderbilt University. At Vanderbilt, she obtained her Bachelor of Arts degree in Biological Sciences. Throughout her entire undergraduate career, she studied the microbiome of a genus of parasitoid wasp named Nasonia. Her research inspired her to co-found the Vanderbilt University Microbiome Society in order to bring together other students who had an interest in the microbiome field. Asia attended Vanderbilt as a QuestBridge scholar and was able to foster her love for research/mentoring as a SyBBURE Searle Undergraduate Research fellow. After graduating, Asia worked for a year as a Research Assistant in a clinical microbiology laboratory at VUMC. Her experience there confirmed her desire to one day obtain a PhD in Microbiology and to continue to study host-pathogen interactions in a clinical setting. As a VERTICAL fellow, Asia's project revolves around the carcinogenic bacteria Bacteroides fragilis. Outside of research, Asia enjoys ceramics, strength-training, and watching horror movies.
Christin Keeton, BS
Christin Keeton was born and raised in Decatur, Georgia. She graduated Summa Cum Laude from Tuskegee University with her Bachelor of Science in Chemistry. Her interest in Chemistry stems from her eagerness to think critically and problem solve to develop scientific findings that can be beneficial to the world. Christin has a passion to serve and advocate for her peers. A few of her involvements included serving as Junior Class Vice President, Tuskegee University National Pan-Council Vice President, and Synergy Health Committee Secretary. While excelling in her academic studies Christin received awards for leadership and achievement. The awards included CRC Annual Freshman Chemistry Achievement Award, Bahrat Dubal Award and American Chemical Society Leadership Award. In Spring 2021, Christin was initiated into the Gamma Kappa Chapter of Alpha Kappa Alpha Sorority, Incorporated. Ms. Keeton has worked as an intern for Quest Diagnostics. Throughout the internship she worked alongside Quest for Health Equity program leads and grantees capturing metrics and important documentation while also creating a journey map with a purpose of showing a visual depiction of how the grantee process should flow and be used as a guide to improve future grantee's experience. Christin was selected as a 2022 – 2023 American Heart Association HBCU Scholar where she conducted research with Dr. Calderon at Harrison School of Pharmacy at Auburn University. She was also an intern for Black Women's Health Imperative. In this role, she identified social determinants of health, advocating for political or social policies and programs while demonstrating professional skills in oral and written presentations. Outside of her career, she enjoys relaxing on the beach, going on spontaneous adventures and building her dream cars. Her specific research interest is the various targeted therapies that are being tested in clinical trials for Triple- Negative Breast Cancer. Upon, completion of the VERTICAL Program, she intends to apply to medical school and advance towards a career to practice medicine focusing in pediatric anesthesiology.
Bryan Hernandez, BS
Bryan Hernandez was born in El Paso, TX, and graduated summa cum laude from The University of Texas at El Paso's honors program with a Bachelor of Science in Neuroscience. He plans to pursue a career as a physician-scientist to develop patient-focused research with the goal of impacting the treatment and care given based on patient necessities. His clinical interest is in neurology with research interests in neurodevelopmental disorders and neuro-oncology. In his free time outside of the lab, he enjoys going to the gym, playing sports, and cooking.