SMART Precision Cancer Medicine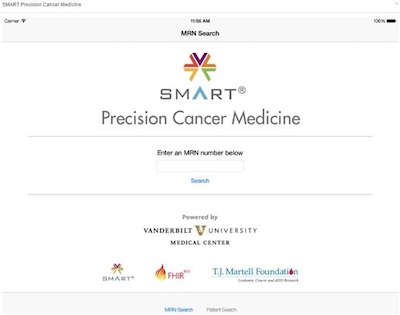 A diagnosis of cancer is a life-changing event which is now made all the more complicated by our exploding knowledge about the genetic mutations in tumors. What used to be "breast cancer" or "colon cancer" or "lung cancer" are now many different diseases defined by their genetics and specific treatments associated with these mutations. While the era of "precision cancer medicine" brings the promise of new treatments and possibly cures, it also dramatically increases the cognitive workload for providers and patients alike. Also, most electronic health records (EHRs) are not designed to support this rapidly changing field.
Vanderbilt-Ingram Cancer Center investigators have developed the SMART Precision Cancer Medicine app to aid cancer care by enabling clinicians to pull up contextual information about a patient's cancer genome in the clinic setting.
The iOS app gives patients and providers access to cancer genomics information in a secure environment external to an EHR. The app displays population-level information about somatic cancer mutations, relative to a single patient, in a user-friendly mobile environment. For example, if a lung cancer patient has the EGFR exon 19 deletion, the app can show the patient and clinician how common EGFR mutations are compared to other gene mutations and how often the exon 19 deletion is found compared to other alterations.
The SMART Precision Cancer Medicine app is based on the open source SMART platform and communicates via FHIR, a new and promising HL7 standard. The app can function with any EHR system supporting the SMART on FHIR API with the proposed SMART Genomics extension, which is also cited as the Standard Profile for Genetics in FHIR DSTU2.

Current capabilities:
Displays somatic mutation(s) within a disease-specific population context for SNaPshot panel results
Links to Gene Wiki for gene level information
Links to My Cancer Genome for gene-variant-disease level information
Links to HemOnc.org for disease-specific and gene-specific treatment information
Future capabilities:
Enable visualization of next-generation sequencing results
Provide additional links according to users' needs
Incorporate survival statistics based on local or large population bases
SMART Precision Cancer Medicine should be considered to be under development and should not be used as a substitute for clinical decision making. We are actively seeking collaborators for further development and invite you to contact us for more information.
For more information about this app, contact Jeremy Warner, M.D., M.S., at jeremy.warner@Vanderbilt.Edu or (615) 322-4967.