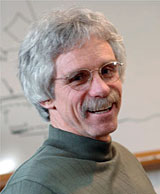 Darryl J. Bornhop, Ph.D.
darryl.bornhop@vanderbilt.edu
Vanderbilt University
5419 Stevenson
Nashville , TN 37203
Profile
Dr. Bornhop is Professor of Chemistry at Vanderbilt University and is an international expert on the development of lanthanide chelates for contrast detection of cancers.
Education
Research Emphasis
In vivo imaging probes, high throughput chemical screening
Research Description
Publications
D.A. Markov, J.C. Latham, A. Kussrow, H.S. Sørensen, and Darryl J. Bornhop. Label-free, Free Solution Molecular Interaction Determinations by Interferometry. For submission to Science. 2006 Mar.
Latham JC, Markov DA, Sørensen HS, Bornhop DJ. Photobiotin surface chemistry improves label-free interferometric sensing of biochemical interactions. Angew. Chem. Int. Ed. Engl. 2006 Jan 1/30/2006; 45(6): 955-8. PMID: 16385602, DOI: 10.1002/anie.200502418, ISSN: 1433-7851.
J.C. Latham, D.A. Markov, H.S. Sørensen, and D.J. Bornhop. Photobiotin Surface Chemistry Improves Label-Free Interferometric Sensing of Biochemical Interactions. Angewandte Chemie International Edition. 2006; 45((6)): 955-8.
Smentek L, Andes Hess B, Cross JP, Charles Manning H, Bornhop DJ. Density-functional theory structures of 1,4,7,10-tetraazacyclododecane-1,4,7,10-tetraacetic acid complexes for ions across the lanthanide series. J Chem Phys. 2005 Dec 12/22/2005; 123(24): 244302. PMID: 16396532, DOI: 10.1063/1.2139997, ISSN: 0021-9606.
Wang Z, Bornhop DJ. Dual-capillary backscatter interferometry for high-sensitivity nanoliter-volume refractive index detection with density gradient compensation. Anal. Chem. 2005 Dec 12/15/2005; 77(24): 7872-7. PMID: 16351132, DOI: 10.1021/ac050752h, ISSN: 0003-2700.
N.G. Deane, H.C. Manning, C.A. Foutch, M. Kay Washington, B.A. Aronow, D.J. Bornhop and R.J. Coffey. Molecular Imaging of Spontaneous Colonic Tumors in Smad3 Null Mice. Submitted to Cancer Research. 2005 Sep.
H.C. Manning, J.M.M. Griffin, T.S. Goebel, B. Bell, M. Motamedi, G.E. Kiefer and D.J. Bornhop. Lanthanide Chelates for Optical Imaging in Medicine. Submitted to J. American Chemical Society. 2005 Aug.
H.C. Manning, B. Anderson, L. Samuelson, S. Havaland and D.J. Bornhop. Expeditious Synthesis of P-protected Macrocycles In-route to Lanthanide Chelate Metal Complexes. Teterahedron Letters. 2005; 46((28)): 4707-710.
L. Smentek, B. A. Hess, Jr., J. P. Cross, H.C. Manning and D.J. Bornhop. Density Function Theory Structures of 1,4,7,10-tetraazacyclododecane-1,4,7,10-tetraacetic acid complexes for Ions Across the Lanthanide Series. J. Chemical Physics. 2005; 123: 244302.
Z. Wang and D.J. Bornhop, "Z. Wang and D.J. Bornhop. Dual-Capillary Backscatter Interferometry for High-Sensitivity Nanoliter Volume Refractive Index Detection with Gradient Compensation. Analytical Chemistry. 2005; 77: 7872-7.