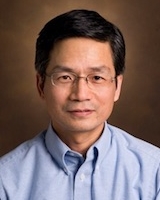 Gong Yang, M.D., MPH
Research Professor of Medicine (Epidemiology)
Gong Yang, M.D., MPH
Research Professor of Medicine (Epidemiology)
Center for Health Services
2525 West End Avenue, Suite 600
Nashville, TN 37203-1738
Profile
Education
Research Emphasis
nutrition, diet, biomarker, sex hormone, inflammation, oxidative stress, metabolomics, epidemiology, colorectal, lung, cancer, cardiovascular, stroke, chronic disease.
Research Description
Dr. Yang's research has focused on nutritional and molecular epidemiology of cancer, cardiovascular disease and other chronic diseases. He is the PI of studies that examine the role of lifestyle and dietary factors, sex hormones, inflammation and oxidative stress in development of colorectal cancer (R01 CA122364), lung cancer (R01 CA200999), and stroke (R01 HL095931). He has also involved, as a co-investigator, in more than 10 NIH-funded research projects to investigate biochemical and genetic markers of cancer risk and survival. Over the years, he has worked closely with colleagues in US and China to build and maintain two large population-based cohorts in Shanghai. His current research has expanded to investigate complex time-dependent effects of exposures such as oxidative stress on disease risk and clinical outcome. He has authored or co-authored 275 publications.
Publications