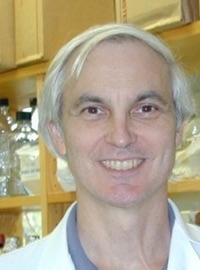 Mark R. Boothby, M.D., Ph.D.
Professor of Pathology, Microbiology and Immunology
Professor of Medicine
Mark R. Boothby, M.D., Ph.D.
Professor of Pathology, Microbiology and Immunology
Professor of Medicine
Vanderbilt University Medical Center
AA-4214B Medical Center North
Nashville, TN 37232-2363
Profile
Education
Research Emphasis
Signaling and gene regulation mechanisms in immune system hematopoietic cells, especially those of B and T lymphoid lineages.
Lymphoid lineage cells are the most central means of regulating characteristics of immunity and auto-immunity, and they also are vital in the inflammation and pathophysiology of most of the main disease burden in the US (atherosclerotic vascular disease with heart attacks and strokes, obesity, diabetes, and cancer), The lab seeks to identify new signal transduction, transcription, and chromatin or epigenetic ways in which lymphoid lineage cells are regulated, with active investigations in immunity, auto-immunity (autoimmunity) and the ways in which sustained antibody responses are evoked since antibody levels are crucial in the efficacy of vaccines and are key components in a variety of autoimmune diseases. The most recent focus is a multi-disciplinary approach stemming from a need to understand (1) at a micro-anatomic level what is the actual constitution of nutrient micro-environments in secondary lymphoid organs and tissue pathophysiologies such as tumor masses?, and (2) how do the characteristics or nutrient sensors in cells alter their function?
Research Description
Research overview:

My lab investigates the molecular mechanisms by which external signals influence lymphocyte function in homeostasis, immunity, and pathophysiology. The sensing of an environment and transduction of its signals regulates transcriptional programs that control the survival, differentiation and proliferation of the cells that endow the immune system with its specificity for foreign antigens. An overall goal is for the investigation of molecular pathways to lead to advances in our understanding and treatment of the myriad diseases in which humoral and cell-mediated immune mechanisms regulate inflammation and pathogenesis.

Our proximate goals are to identify genes involved in the control of lymphocyte function, to target proteins with altered activities to defined populations of lymphocytes in intact mice by using retroviral transduction and transgenic technologies, and to evaluate the effect of these altered activities on immunity, inflammation, and cancer. In recent years, this focus of long standing has sprouted a new branch stimulated by a recognition that while the concentrations and supplies of nutrients and metabolites that surround lymphocytes and other immune system cells can regulate their characteristics and function, this molecular landscape has not been measured. Thus, we have embarked on new means of explorating and quantifying metabolic features of immune micro-environments and plan to test how microbial or cancerous processes influence these features. This new facet of our work will be tied to metabolic sensor networks in immunity, and use existing and new loss-of-function genetic models to test whether and why particular cells in adaptive immunity need such signal transducers to persist or function. Two main areas that we are developing and plan to use as models for a broader principle are (1) humoral immunity and sustained production of auto-antibodies, and (2) tumor immunology – for instance, how do the variegated metabolic micro-environment of tumor masses and nutrient restrictions (e.g., that of oxygen) affect tumor-infiltrating lymphocytes or adjacent tertiary lymphoid structures?

Publications