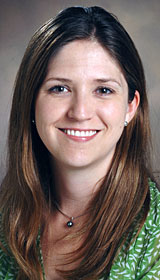 Vicki L. Keedy, M.D., MSCI
Associate Professor of Medicine (Hematology/Oncology)
Clinical Director, Sarcoma
Vicki L. Keedy, M.D., MSCI
Associate Professor of Medicine (Hematology/Oncology)
Clinical Director, Sarcoma
2220 Pierce Avenue
777 Preston Research Building
Nashville, TN 37232-6307
Profile
Dr. Keedy is an Associate Professor of Medicine in the Division of Hematology/Oncology. After receiving her B.S. in Microbiology at Indiana University, she went to medical school at the University of Cincinnati. Dr. Keedy completed her Internal Medicine Residency and Hematology/Oncology training at Vanderbilt University Medical Center. She is a graduate of the Master of Science in Clinical Investigation Program at Vanderbilt.
Dr. Keedy is the Clinical Director for Sarcoma, a member of the Phase I Clinical Trial team, and serves as the principal investigator on several soft tissue sarcoma, bone sarcoma, GIST, and Phase I clinical trials. She is a member of the Sarcoma Alliance for Research Collaboration, and is a member of the AJCC Soft Tissue Sarcoma Expert Panel.
She is active in the American Society of Clinical Oncology, and has served on the Career Development and Health Services Committees. In her role as the Medical Director for the Clinical Trials Shared Resource, she serves on the AACI/Clinical Research Initiative working group.
Education
University of Cincinnati College of Medicine, M.D.
Residency/Fellowship: Vanderbilt University Medical Center
Master of Science in Clinical Investigation, Vanderbilt University School of Medicine, 2009
Research Emphasis
Research Description
Publications